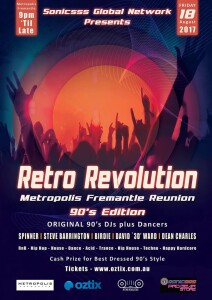 Are you ready for the party of all parties? Well here it is, 5 old school DJ's from the 90's & beyond for one night of fun.
SONICSSS GLOBAL NETWORK has rounded up Metro Freo's original 90's resident DJ's Steve Spinner & Steve Barrington along with DJ Birdie, Dean Charles & Dave '3D' Ward for a trip into clublands coming of age.
Featuring OG Club Dancers, cash prize for best dressed 90's style, special lighting and fx, playing all the original 90's Hits & Club Classics, RnB, Hip Hop, House, Dance, Acid, Trance, Hip House, Techno, Happy Hardcore & Rave Favourites.
So whether you were a regular at Metropolis Fremantle in the 90's or just want to experience what it was like, Retro Revolution : Metropolis Fremantle Reunion 90's Edition is a night not to be missed.
Friday August 18th 2017 Metropolis Fremantle, Western Australia 9pm – late.
Tickets on sale now https://tickets.oztix.com.au/?Event=75963