Tag:
Detroit
These photos of life in the US at the beginning of the 20th century are truly a walk back in time. The first photo below looks the same today and many of you have entered it on the way to NY. The third photo shows how trolley cars were air conditioned in the summer. The …
Bergen Tunnel, Buffalo, Chicago, Colorado, Coney Island, Danville, Des Moines River William Henry Jackson, Detroit, Gay Street, Grand Rapids, Gulf Port, Labor Day, Main Street, Michigan, Michigan Central Railroad, New Orleans, New York, Petoskey, St. Augustine, St. Clair, Steeplechase Pier, United States, photos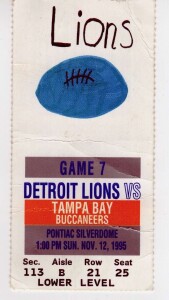 This was the first NFL football game that I ever saw. Here is my ticket stub from the game. From what I remember I saw Barry Sanders come running right towards my direction for a touchdown. It was a pretty awesome.