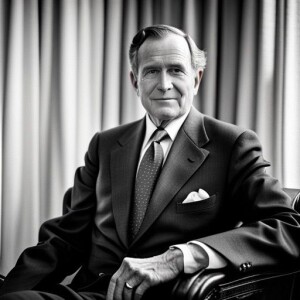 George H.W. Bush, the 41st President of the United States, was a man of many talents and accomplishments. Though born into privilege, he made a name for himself through his hard work and dedication to public service.
Bush's journey began at Yale University, where he honed his intellect and developed a passion for leadership. He went on to serve as a fighter pilot in World War II, showcasing his bravery and determination in the face of adversity.
However, it was in the political arena where Bush truly shone. He held a variety of positions throughout his career, including Director of Central Intelligence and Vice President under Ronald Reagan. But it was during his presidency that he truly made his mark on history.
As leader of the United States, Bush faced many challenges, including the Gulf War – a conflict with Iraq over its invasion of Kuwait. Despite the odds, he proved himself to be a skilled and strategic commander, leading his country to victory with grace and dignity.
But it wasn't just his political prowess that made Bush a beloved figure among Americans. He was also known for his commitment to public service and volunteerism, famously coining the phrase "a thousand points of light" to inspire others to give back to their communities.
Even after leaving office, Bush remained an active and engaged citizen, dedicating himself to causes such as education and the environment. His passing in November 2018 was mourned by many, but his legacy of leadership and service lives on.